Hunting with Patricia
The winter of 2006, Patricia and I got our first Iowa Deer!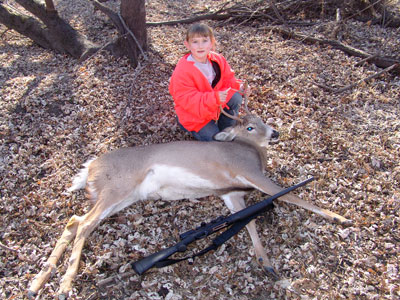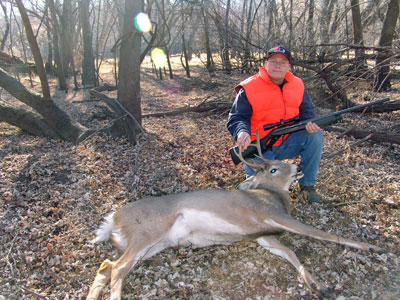 In mid December, I decided to take Patricia on her first deer hunt. We set up in the early morning and saw a
few Does show up. As I got the scope on them, Patricia yelled out "Daddy there's a big Buck!" Well as I moved
the scope over, there sure enough was the biggest Buck I ever saw. Well it heard her yell out and took off
running. Unfortunately I missed. However around noon I told her I was going to take a little nap on the ground
inside the blind. About ten minutes later she again yelled out "Daddy there's a Deer!" Well, this one was far
enough away so it did not hear her. I got the scope on it and we came home with an 8 point Buck. It was
a really neat event to spend with her and the weather was awesome. It got to 50 degrees F that day!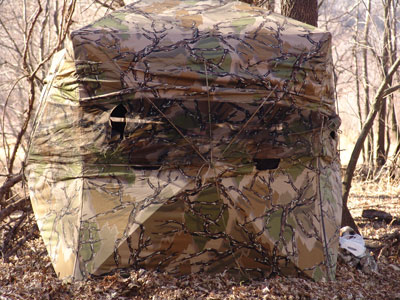 The ground blind we used was a "Matrix 360" by Double Bull Archery. It makes taking an 8 year old hunting
a real pleasure, and no worries about having the kids in a tree stand! Thanks Double Bull for a great product!
If you look close, you can just see Patricia's eyes at the center of the blind through the camo mesh! The deer
was about 60 yards away and never had a clue we were there. The blind really blends in well at a distance and
when you have a black ninja mask on and have the blind closed behind you, you cant see any movement inside
because the interior is also black. It sets up easily and not to bad to carry into the field. Cant wait for next year!
Santa falls one short on MP3 Players!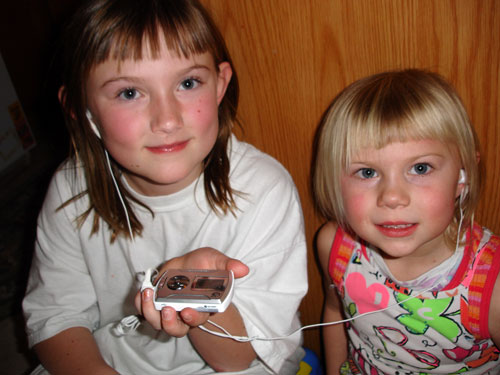 73 de KMØT EN13vc