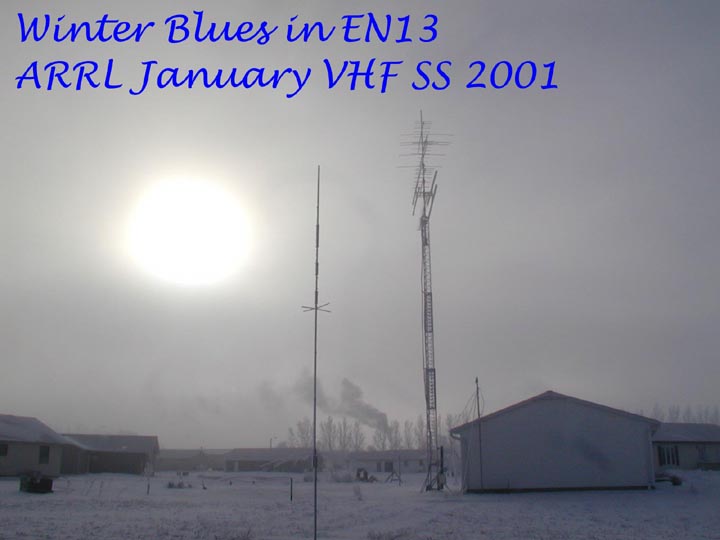 Please read while the pictures load……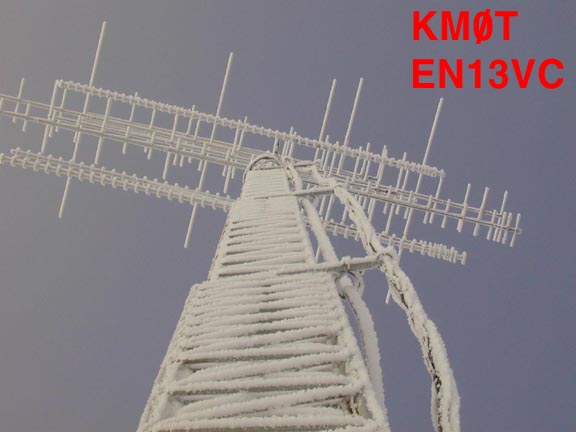 Ahhh… the sweet weather of January finally gave us a break down here in the tundra I call NW Iowa, just in time for the ARRL January 2001 Sweepstakes and club competition.
Just before, the subzero weather and very windy conditions had prevailed for most of December and well into January. My Wife Colleen and my daughter Patricia were going pretty stir crazy due to being boxed up.
I however did not feel this boxed up feeling, my mind had been full of ideas for months on how to improve the shack just to get ready for the event. I had come to the conclusion that when I think it's all done, then it gets redone again. The projects at hand kept the cold wintery blues out of the ham shack for sure, even though propagation in the pervious months had been horrible on the VHF band. Sporadic Es this winter had been essentially zero, and tropo….well, what was that? Even the meteor showers, the Leonids, Geminiads and the Quads were very poor from this QTH, all attended with great anticipation but with very few QSOs.
The first thing that I had on my mind was how to talk my buddy Gene, NØDQS (EN22) into getting a SSB/CW setup for 1296. Gene likes roving and I like points, so this is a good back scratching kind of relationship. In the last September contest, Gene had borrowed my Kenwood FM mobile which had capability on 222 and 1296. I set him up with a HO loop for 222 and a 35 element yagi for 1296. We had very good success between us in September, but one could definitely tell that FM was not the "mode of choice" for us weak signal VHF folks. I think NØDQS really had a blast with 222 and 1296, the seed had been planted.
On the home front, I was working on dumping my FT-847 and going the transverter route. I already had a 2M transverter from Steve at Doweast Microwave. Using this in conjunction with my FT-1000MP really blew away the FT-847 as far as "operability". It heard pretty well too. The idea was to build an IF switch to switch between various transverters, thus utilizing the FT-1000MP as the "ultimate driver". I started building / collecting and swapping equipment shortly after the September contest.
On the antenna front, everything was still working, so I left well enough alone. I just can't get any more stuff on the tower without it effecting the beam patterns any worse. The compromise does work pretty well however. The vertically stacked loopers for both 1296 and 902 on the H frame had taken some ice and very severe winds for weeks this winter, came out of it just fine. Contact David at Directive Systems for info on loopers. The M-Squared antennas I have also held up fine this winter. Luckily we did not have as much ice like they did down in Southeast. (Update 1-31-01 on a larger ice storm – see "Ice on the Loopers" link)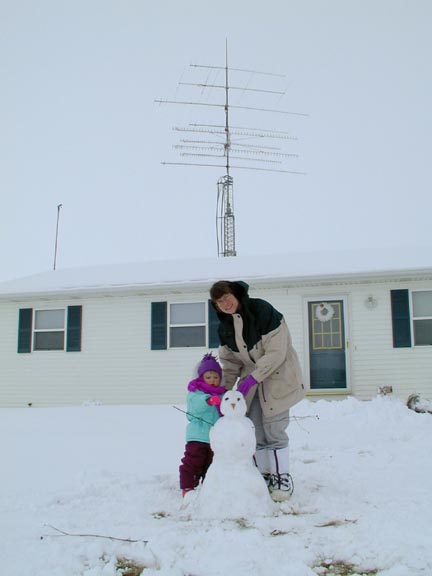 I had been using my FT-736R on 1296 and also using the 144 Mhz portion to drive a Downeast Microwave transveter for 902. I was not real happy with the performance on 1296. If I went with something else, then the 736 would only be used as an IF for 902. This I felt was a waste. I had also been having problems getting the internal drive pots set properly to drive the 902 transveter to a level sufficient to drive my converted cellular 28V amplifier. When I used the front panel RF drive level control, I would sometimes move the pot just a bit too much when switching between 902 and 1296, and then overdrive the 1296 linear. When that happened, I would need to reach over and reset the unit. To complicate matters, the front panel RF drive control would also change with temperature during usage, thus making the pot setting somewhat unpredictable. During the September 2000 contest, this was a problem. I did not want the same issues in January.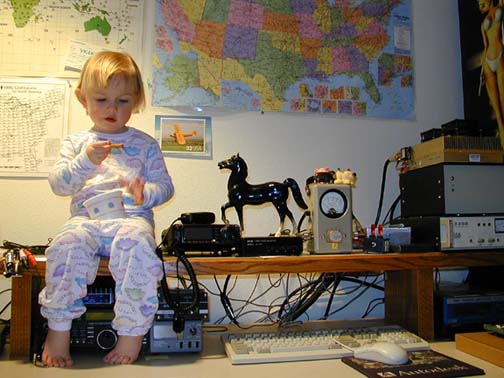 HAMFEST MINNESOTA:
Who says that there are no good deals at hamfests?. I attended the Hamfest up in Minneapolis in late October. I was buzzing around the tables for the first time and within 5 minutes came upon a LT2S - 2 Meter transverter by SSB Electronics. I had always wanted to try one in comparison to my Downeast Transverter, but they were way expensive. Also, I knew this unit was an older model, not the "Mark II" version currently being made. Anyway, I looked the unit over well and wrote a check. I figured I could sell it for the same I paid if it did not work out. Also, with them priced new around $900, the price I paid was a very good deal. Thanks Paul!!
EBAY IS MY FRIEND, PAYPAL TOO!
I Knew that I eventually wanted to use my FT-1000MP as the IF for different bands, the problem was how to build or find an IF switch. I asked around and also remembered hearing about it as a topic of discussion at "Aurora 2000" last year (The NLRS-Northern Lights Radio Society VHF/UHF Technical Conference, held yearly in the EN34 area).
I then began looking at Electro-Mechanical coaxial switch manufactures like DowKey, K&L and Transco. On the retail market, these items were very expensive. No wonder our taxes are so high, the military equipment budget has to be large enough to accommodate the prices I found on these relays. Anyway, I remember someone saying to check out "Ebay" and sure enough, they were the same relays I was looking for and for much much less cost. I signed up for "Paypal" and proceeded to bid and buy some relays. Who knows where these guys get these things, but I tell you it can be a good deal if you keep looking. I also found a wealth of SMA cables, attenuators, connectors and accessories on Ebay for doing my other projects. Without this resource here in the non-technical junkyard on Northwest Iowa, I feel that I would have taken much longer to find the stuff I needed at a higher cost. See Ebay.com and start snooping around!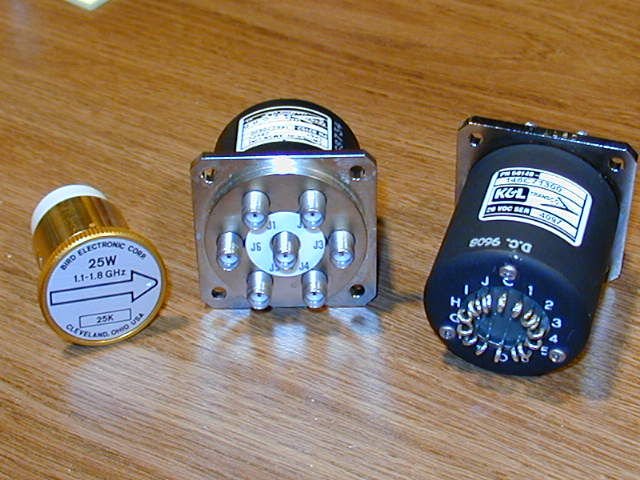 I also put my FT-847 up for grabs on Ebay, that worked out fairly well.
I then came across a SSB Electronics 902 MHz Rover Transverter, the LT33LP. I decided to go for it there on Ebay and have my Downeast 902 transverter as a spare or be used mobile. I figured that if I could get the SSB transverter to be driven by my FT-100D then I could get rid of the FT-736 if I could also find a good 1296 transverter.
HOW MANY 1296 RIGS DOES A GUY NEED?
Somewhere along this time I got an email from Brian, NØVSB in Colorado. He indicated that he had his ICOM 1271 for sale. The 1271 is an all mode 1296 rig. I had gotten my ICOM 375A from Brian a year before, it was in good shape and worked very well, so it would be a shame to pass on the 1271. About that same time, I had already purchased a new LT-230S from SSB Electronics, their 1296 transverter, a very fine piece of equipment. Also, about that time, NØDQS had a problem with my 144/222/1296 Kenwood FM rig, and it had just came back from the factory all fixed up. I figured I needed the 1271 from Brian because of future roving requirements, etc. I was dead set on getting rid of the 736R and keeping the SSB transverter for home. I then figured I would let NØDQS look at the 1271 and use it for the January contest. This all seemed to work it self out and went as planned.
RELAY TECHNICAL INFORMATION AND BACKGROUND FOR IF SWITCH DESIGN
Here is a picture of surplus relays from Ebay. The larger 6 position SMA relays are Transco Part Number 146C71300. These relays go into the closed position upon 28 VDC on one of 6 inputs and have a positive feedback contact I use to drive LEDs to indicate if the contact has closed. (Caution, there is no N.C. contact, all are open when there is no power applied) The smaller 6-position SMA relay is basically the same, except without feedback contacts. Its Transco Part Number is 146C70600.
Note the one with the wires coming off of it. It is a pull from some commercial RF station. The small square box in the center is a protection diode already built and wired in. All you need to do is check the polarity!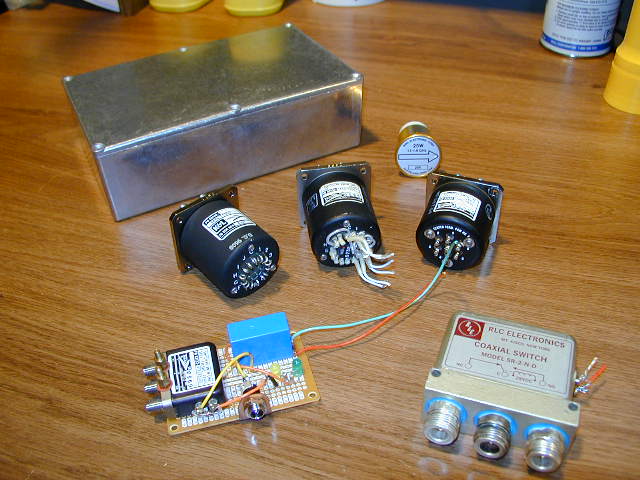 I went to the Dowkey Microwave website, which bought Transco some time back. I downloaded their PDF catalog and found towards the end of the catalog the Transco part numbers. The type MOI relays are described in detail including graphs of SWR, insertion loss and isolation verses frequency. Dimensional information and wiring diagrams are given. It is also worth noting that there are other versions of the relays that are not apparent on the surface. Be sure to check you part numbers to be sure of what you are getting on Ebay. You may wind up with a relay that looks exactly like these, but are TTL logic driven. I believe that you would need some interfacing TTL logic chips to drive these particular versions. 12V versions of these are very rare, I have only seen one so far on Ebay, but plenty of 28VDC units. More on power supplies for these later.
As far as isolation goes, I was told by some that I needed good isolation or could be hearing signals from another transverter that was not selected. The isolation at 28 MHz is around 100db and 80 to 90db at 144 MHz. These relays are rated to 18 GHz for 60db of isolation. Some other folks talked about problems of driving another transverter that was not selected at the time. Well, the way I have it figured, my drive levels are very low, the isolation is very high and non selected transverters are never in PTT TX mode unless they have actually been selected. So this should not be an issue.
The large RLC Electronics SPDT Type N connector relay is a is a 28VDC unit, works good, $25 on Ebay. Picked it up as a spare or for future use. Looking for 12V versions, but as again, they are rare. If found, are very expensive.
The small SPDT SMA relay is a Transco 919C70100. This is a typical surplus relay used by many Hams for UHF work. The problem is that it is 28V. The small circuit board that I built is simply a 12V relay that switches 28 volts to the relay. The red and green wires are the 12V drivers, the 28V input is via the small male plug on the side. The idea would be that if all power in the shack was 12V (or rover vehicle ) except near the antenna where one had 28V for an high power solid state amp, then one could switch the RX/TX there with this low cost relay and my version of this driver board. New 12V versions of this relay by RLC Electronics are upwards of $100, so as one can see, there need to be a few ways to get around this. In addition, Downeast Microwave sells a 28V relay driver kit. See DEMI kit RVD-1. It is based on the fact that it takes the rated voltage to energize the relay, but a smaller voltage to hold the relay in the energized position. So one can run these small Transco 28V relays with 12VDC. On the Downeast Microwave website is a write-up / tutorial about rewinding surplus relays back to 12V, but I have yet to try to get the cover off of one of these babies yet.
As far as power at 28V for a shack supply, I use a 24 VDC wall transformer. Typically, these things put out more than what they are rated, so make a quick measurement. The unit I have is a "Calrad" 24VDC unit, 400ma. It measures 32.3 VDC. Because of this, I tried a simple voltage regulator circuit adjusted for 28V using some Radio Shack parts, but it really made no difference. I run both of my IF switches directly from this wall transformer. They survived the contest under fire for the entire duration.
One thing to keep in mind is that when you put these relays in a box, they are energized all the time your station is running, so they do get hot. This is why I drilled holes in the "Split" RX / TX IF switch box and put a CPU fan on the cover, the two relays produce quite a bit of heat. The single "Common" RX / TX IF switch box only uses one relay, and heat has not seemed be a problem on that design.
COMMON TX/RX and SPLIT TX/RX IF SWITCH
The Common TX/RX IF switch is built into a small size "Bud" box, 4.5" x 3.5" x 2" cast aluminum. The Split version with the two relays is 7" x 4.5" x 2".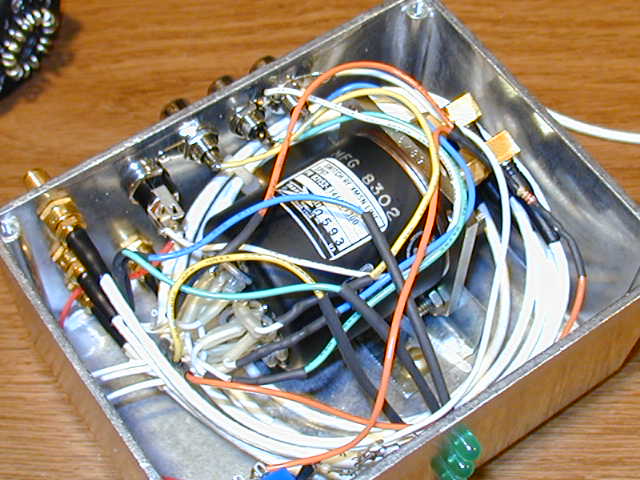 The Split version of the switch is used on the FT-1000MP, it has a transverter output at 28 MHz and a RX input, therefore one needs two relays. This works out well considering the 2M and 70cm SSB transverters have split TX and RX connections for the IF. The Common version of the switch is being used for the FT-100D, which drives the SSB Electronics 902 and 1296 transverters, and the Kuhne Electronics 2304 transverter. All these units have TX/RX IF switching built in, so only one relay is needed.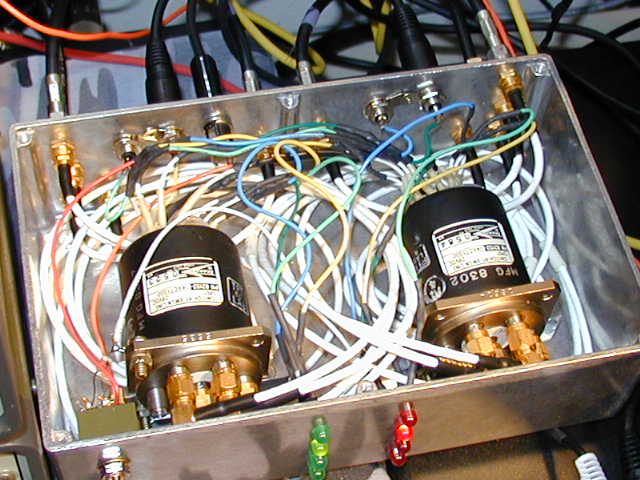 The white internal cables are from the The RF Connection, SMA right angle male to SMA female bulkhead. This was the easiest way to build without adapters, etc. One can choose their own cables however, just need SMA males on one side to connect to the relays.
The 28V comes in and is used to power the LEDs for positive feedback, just choose an appropriate resistor so you don't fry the LEDs. Control is accomplished via an external switchbox, the Audio/Video pushbutton. This switchbox has 4 pushbuttons, which have a common Left, Right and Video channel to one of 4 positions. (All RCA Connectors) On the left channel common I have a simple short, this is what completes the 28VDC path to ground for both the relay channel power and the associated feedback contact for LED power. I run the PTT line from my main switchbox into the Right channel, which then is carried out to the appropriate transverter's PTT input. When you hit one of the pushbuttons on the AV control switchbox, the corresponding Common or TX/RX LEDs on the IF switchbox light up to indicate a positive closure, thus completing the IF switching. The AV switchbox routes the PTT line at the same time, and your all set.
THINGS I WOULD DO DIFFERENT
Put the relays in a bigger box. It's nice that they are small, but fairly difficult to build. Routing of the internal cables would not be such a pain.
Drill the holes for the SMA bulkheads farther apart. Kind of a pain when they are so close when attaching and tightening cables. A bigger box would make this possible.
Design the fan into the systems on the Split IF Switchbox, it was an afterthought after I discovered the how hot that box became. Just the little bit of air flow really help keep the box cool.
Test the relays more thoroughly and inspect the actual connectors. Note the red tape on position 2 of my AV control switchbox at the 2M and 70cm station. The relay fails to close 100% of the time on the RX side, so I moved to position 3 for 70cm. I also noticed that one of the SMA connectors on the relay output had a damaged center pin. I had to jump to the next output, thus skipping one position. Not a problem if all your going to do is run a few transverters, could be a problem if you wanted to run 6 however.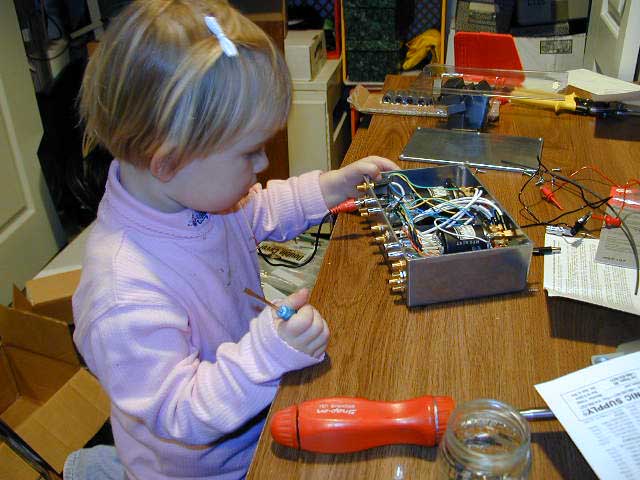 FT100D AS AN IF AT 144 MHz
The FT-100D is a fine little radio, I am using it to drive my 902, 1296 and 2304 transverters. There are a few things to work around however:
Power output levels
Common PTT output
Via the internal menu of the radio, one can adjust the power output separately on HF, 50Mhz, 144 and 432. The menu settings for 144 PO have a range from 0 to 100, which is supposedly relative from 0 to 50 watts. However, the lowest output on 144 with the menu set to 0 is about 3.5 watts.
As far as the PTT output is concerned, the FT-100D does not have a separate connection per band like on a FT-847 or FT-736R, you just get a closure to ground from the same jack, no matter what band is being transmitted on. Routing the PTT lines to the transverter via the AV switchbox as indicated earlier easily solves this problem.
I asked around if there was a way to internally adjust the power output down closer to the 500 milliwatt range, but got no answers. I knew I would have to go with attenuators.
The 902 transverter can take up to 10 watts input, but works the best with much less than one watt drive. In fact the onboard attenuator had little effect with larger amounts of drive. According to Gerry at SSB Electronics, the LT33LP rover transverter is very hot and takes very little drive to get it going.
The LT230S has an onboard attenuator as well, and I was able to drive it with the 3.5 watts but could take much less for full output.
The 2304 transverter is located at the antenna and would already have 3 dB of loss due to the cabling attenuation. (100' of LMR240 - see the September Contest Write-up from 2000)
The issue was that one did not want to attenuate the output of the FT-100D too much. This is because it does share the same line for the receive. Too much attenuation and you loose the receive signal. Knowing that the transverters had a good amount of receive gain, (15 to 20 dB) I figured I could attenuate up to 10 dB or so if needed. Trial and error led me to the fact that the attenuation had to be based on the input to the 902 MHz solid state amplifier, then the other transverters could be adjusted from there.
902 TRANSVERTER TECHNICAL POINTS / INTERFACING
The SSB Electronics LT33LP "Rover" transverter is a neat little piece of equipment, but prone to damage due to its construction nature. It is essentially built on a circuit board box that makes its components exposed. I am not so sure that a "Rover" would put it in the vehicle this way. I decided to put it all in an enclosure.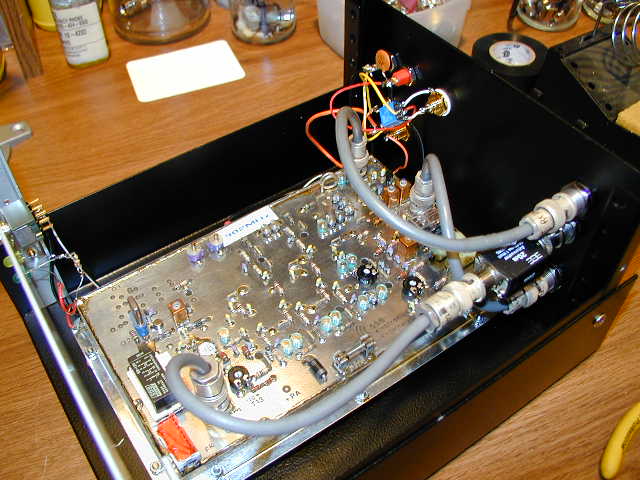 Some Specs: The transverter is rated for 100mW to 10 watts input, with 750mW to 1 watt output. GaAsFET front end receiver with Noise figure of 1.4 dB, receiver conversion gain is 18 dB. Power output I experience was about 1.5 watts out. It has an onboard relay for RX/TX switching on the IF side, simple closure to ground to put into the TX mode. The unit also has a + outputs on during receive or transmit, depending on your needs.
I was using this transverter to drive my 28 volt solid state amplifier. The amplifier takes very little drive to get it to 180 watts, on the order of 1 to 10 mw. I resorted to Ebay to find attenuators of various shapes and sizes to make it all work.
It was very apparent from the beginning that I was overdriving the amplifier. Just when keying the amplifier and not sending CW, I was getting RF output. On SSB all the background noise was putting out lots of power. Having had this all hooked up before, I knew it was not normal.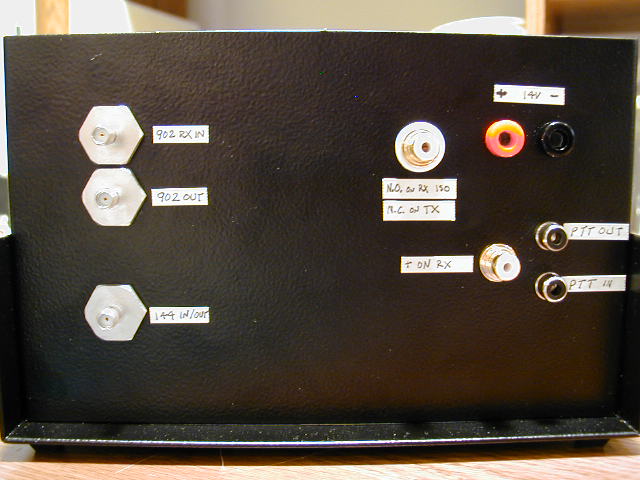 I first started with a 10 dB SMA attenuator rated for 1.5 watts, an Ebay special. This I put in line with the amplifier input. This worked great, but I could tell I needed more. I then found a 20 dB attenuator on Ebay with BNC connectors, this worked great being able to connect it right at the transverter panel adapter(see picture). This essentially gave me 30 dB of attenuation, but still too much drive was at the amplifier. It was then I decided I needed to attenuate the FT-100Ds output. I came across some more Ebay specials and decided to obatin a variable step attenuator as well as a set of fixed N type attenuators. I inserted the variable attenuator in line and started cranking it up to see how the RX gain was effected. One could definitely tell where there was not noticeable gain in receiver noise when it was adjusted for 12 dB. With that I started to key up the rig and found that 6 dB gave me a good compromise between no discernible RF output without modulation and with good RX gain noise increase when the transverter was powered on. I then replaced the variable unit with a fixed N type attenuator, tested and confirmed the levels and was ready to adjust the other transverters.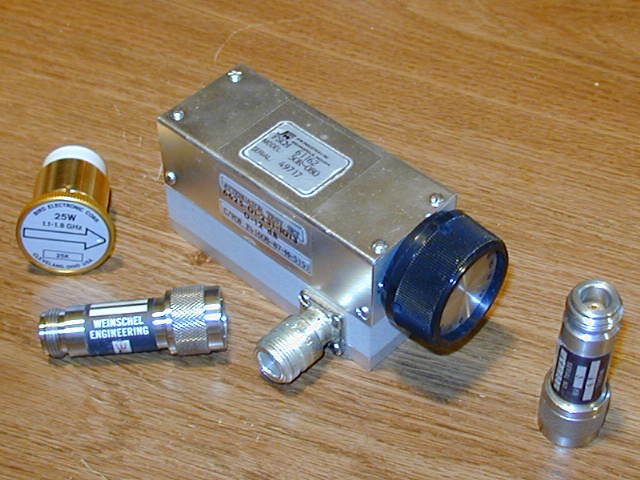 Although with 902 activity very light in this area, the equipment did work very well. And it looks better in a box! Parts were obtained from the junk box and DIGKEY. The aluminum enclosure was easy to drill and work on, sized just right for the "Rover" transverter. BNC to SMA panel adapters were obtained from the RF Connection, even though I saw some on Ebay later…darn.
1296 TRANSVERTER TECHNICAL POINTS / INTERFACING
The SSB Electronics LT230S – 1296 transverter is a fine piece of German craftsmanship. It can take up to 10 watts drive, fully adjustable from the front panel TX Gain potentiometer. Adjacent that is a gain pot for the RX side as well, very handy for adjusting the best signal to noise ratio in the receiver. Its range of adjustment is approximately 5 to 20 dB of RX gain. Noise figure is 1.1 dB. The one strange thing is that the power cable is a DB9 serial port, odd I would say.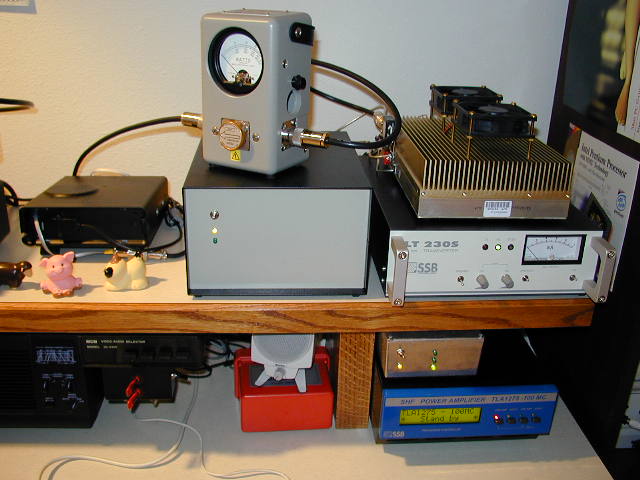 It has a "on" and "operate" switch. The "on" switch turns on the LO to help with frequency stability. There is a preamp switch with built in sequencer as well. Using this in conjunction with the 100 watt SSB Electronics TLA1275 amp worked great. The amplifier has a built in preamp sequencers, so that is the one that I use, not the one in the LT230S. The LT230S is capable of 30 watts out barefoot, but easily adjustable down to the 2 to 3 watt range for driving the TLA1275 amplifier. The front panel meter gives a relative output. By itself, the LT230S would be very handy as a "rover" transverter considering its power output and ability to adjust TX and RX gain very easily. Kinda spendy however.
With this units built in TX/RX IF switch, it was easy to interface to the Common TX/RX transverter IF switch box. With all the adjustments / attenuation I needed to implement the 902 transverter did not effect the ability to take make the LT230S work as advertised. Very easy due to the front panel adjustments.
2304 TRANVERTER READJUSTMENT
Once I knew that LT230S was adjustable with the attenuation I had in line with the FT-100D, then all I had to do was re-adjust my 2304 transverter for a smaller drive level. Since the transverter was mounted at the antenna, there was 100 feet of LMR240 in-between the IF switchbox and transverter, a 3 dB loss. Adding the 6 dB attenuator did make a difference, so readjusting the unit for full output needed to be done. The RX gain was measured after manufacture at 22 dB, so the RX side was not hindered whatsoever by adding another 6 dB. Even though I made only one contact during the January contest, it was testament that all was working and the unit heard well. Working EN34 on 2304 MHz with no apparent enhancement was a DX contact to remember. Again, see the September 2000 contest write-up for information on the Kuhne Electronics 2304 Transverter.
DEALS IN THE TARGET PARKING LOT
During all this ramping up for the contest in November and December, I had a meeting with Gene, NØDQS in the parking lot at Target in Sioux City. It must have looked kind fishy as we both met, opened up the trunks of the cars and exchanged boxes for little green and white papers. Gene now had the 1271 and was ready to try 1296 MHz with SSB and CW. About a week later we were able to test it out and gave the rig a clean bill of health. Gene also took back the Kenwood FM rig for work in 223.5 MHz.
IT'S A SMALL WORLD
Sometime in December I got an email from a nice fellow in the Netherlands who had a SSB Electronics LT6S – 6M transverter for sale. The price was right and we made a deal. Just how to get the money to him was the question. After some investigation, (and a lot of trust on both parties ) we had it all worked out. The LT6S arrived just in time before the contest to be connected to another FT-1000MP. The unit arrived in fine condition and works very well. Its amazing how the internet and email has changed the world. Thanks Bert!!!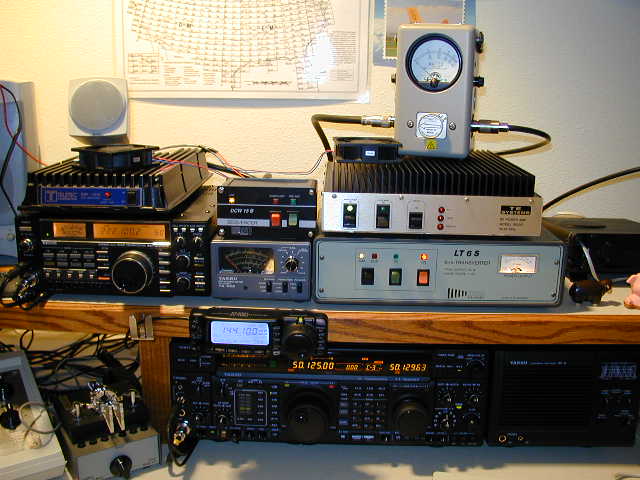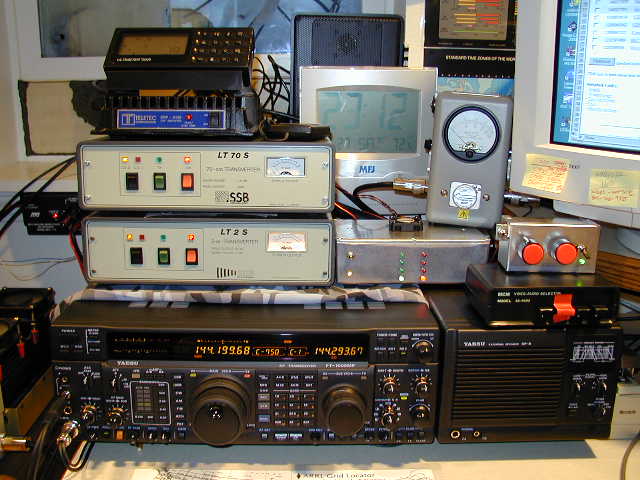 WILL THE WIND EVER DIE DOWN AROUND HERE?
Thursday night before the contest, I planned to put my 2304 looper and transverter back up on the roof, the dang wind just never seemed like it wanted to settle down. I had to go for it. It really did not seem that windy but as I was on the roof, my finger froze so fast I could not believe it. I kept plugging along and finally got it installed. I figured having Friday night to work out any bugs would be a good idea. I went inside and my wife looked and me and said I was crazy. I did not know it but is was 25 below wind chill the whole time I was out there. No wonder I got so cold J
Everything was setup, all items were working and I still had day and half to do rover tracking schedules!
THE CONTEST – JANUARY 2001
The contest began on time and worked a number of local stations and took them throught the bands. Kept track of Gene, NØDQS/R without any problems, his stacked loops on 2M and 432 made it easy.
An early disapointment was looking all day on and off to the East and Northeast looking for NAØIA/R and KØDAS/R. I was never able to rasie them or they never turned their antennas this way. I knew they were running with the higher bands too. I did not run into them until late the first night. I caugth Rod, KØDAS/R in the EN34 area. Even then he was not easy to work, not very strong. This did not make any sense since I was able to work NØDQS/R without any problems, and he was farther away much of the time. I also had trouble raising Tim, KØPG/R and Pat, KB9WYL/R. I only managed to catch them in two grids for a few bands. It is always good to hear Tim and Pat as rover team!
I did not think the conditions were that bad, but apparently they were. One highlight that day was working a guy in EN61 on 2M SSB, the signals peaked at just the right time. He had a hard time believing I was in EN13, I assured him of this and then we faded out with the QSB.
I ran into Wally, WØPHD and other up the direct north cooridor. The band was open up that way on and off that way all day. I also tried south and found the band open farily well, but only on QSB swings. Linked up with Larry, NØLL on all the bands up thru 1296. Heard that NØKQY was on, but missed him in heat of battle.
Got to work a bunch of NLRS guys in EN34 and EN35 on most the bands, the 1296 qso to up there we marginal, but workable for a few. The few 900 MHz qsos had appeared to be better in terms of propagation than 1296. Thanks for finding me!
Managed to make a few scheds, but some I heard nothing on. Bob, K2YAZ is always a good one to try with, we had good success on 2M. I tried with Gary, WØGHZ (Cool callsign by the way!) on 2304 two or 3 times, but no go the whole first day.
When I was tired of calling CQ on SSB and CW (which resulted in very little I might add) I would track down NØDQS/R and work him again. I never had any trouble on all the bands the first night, except we could not make it on 223.5 FM when he was in EN32. I kept looking for the other rovers, know they were points to be had, but could not find them.
I got ready to call it a night. About 0630 UTC and Gary, WØGHZ decided to give me a me a shout and we gave it another run on 2304. This time I heard his beacon and we did a CW qso in no time flat. After that excitement, I proceeded to work a dozen more qsos before hitting the hay after 0700. This gave me around 180 qsos the first day.
The next morning, which was only after a 3 hour nap, came awfully quick. If I remember from the year before, I awoke to a major sporadic Es opening the east coast. I remember that I missed about half of the opening. Also had good Meteor Scatter contacts on 6M in 2000. This year was a bust however. The scatter I was hearing was numorous, but very short bursts. I heard and identified a number of stations, but not a qso was made. Never really ever heard a long burn. No Es were to be heard by me for the entire contest. Things were very slow and I was getting tired of calling CQ. The first QSO of the day did not come until 1430 UTC, kind of a long wait!!! Not a lot of activity.
Got going again with NØDQS/R and proceeded to continue working him. His ICOM 1271 and 35 elements on 1296 was really working out. I was having no problem working him on 1296. We struggled abit on 223.5 FM once in awhile, but Gene would find a higher spot or just move the vehicle and then I would hear him come out of the noise. It was on this day that Gene and Chris, N0UK worked each other on 223.5 FM by keying the microphones to send CW via watching the carrier come thru on FM. Apparently there was not enough for the audio, but they could read the carriers. What mode does this get logged under? Pretty inovative for both those guys I must say.
Towards the middle of the the day, I linked up with a few guys up north as a nice treat. Bill, KØAWU was worked in EN37 on 2M CW. We tried on 432, but did not make it. I did hear him a few times however during the peaks of the band swings. I ran into him later and we tried on 432 again, but did not make it. Did hear him again however, just not our day.
Things were getting pretty slow the late afternoon and evening. I had either worked everyone or nobody wanted to talk to me. I spent my time calling CQ and turing the antennas looking for straglers and rovers. I can truthly say that this contest had many periods where no activity was heard on any band for hours at a time, pretty disapointing on the activity level. The band just did not seem to be that bad.
I had been looking for aurora all afternoon and evening, then we finally got a 15 minute spurt of AU on 6 and 2M. I worked about a dozen guys between those two bands. Never heard any AU the night before. It was nothing like the AU opening last year towards the end of the contest. Nevertheless, it kept me awake for the home stretch for it got the adrenilin pumping again.
Thankfully, Gene, NØDQS/R decided to hit one more grid, EN25 in liue of heading directly south from EN15 on the Hyway. He had been on the road for along time, and he still had 3 hours to go to get home after the contest ended. Never had a problem working him up there either on 1296.
OVERALL SUMMARY:
| | | | | |
| --- | --- | --- | --- | --- |
| BAND | QSOS | PTS/QSO | QSO POINTS | MULT–GRIDS |
| 50 MHZ | 58 | 1 | 58 | 28 |
| 144 MHZ | 109 | 1 | 109 | 46 |
| 222 MHZ | 36 | 2 | 72 | 20 |
| 432 MHZ | 52 | 2 | 104 | 25 |
| 902 MHZ | 5 | 4 | 20 | 3 |
| 1296 MHZ | 20 | 4 | 80 | 17 |
| 2304 MHZ | 1 | 8 | 8 | 1 |
| ALL BANDS | 281 | | 451 | 140 |
KMØT Claimed Score: 63140
Thanks to all the Rovers! Without you my score could not be anywhere close to what it is.
ROVER SUMMARY:
| | | | | | | | |
| --- | --- | --- | --- | --- | --- | --- | --- |
| BAND | NØDQS/R | KCØP/R | KBØQGT/R | KØPG/R | KB9WVL/R | KØDAS/R | KBØDCO/R |
| 50 MHZ | 13 | 0 | 0 | 0 | 0 | 0 | 0 |
| 144 MHZ | 13 | 2 | 1 | 1 | 1 | 3 | 1 |
| 222 MHZ | 12 | 0 | 1 | 2 | 2 | 2 | 0 |
| 432 MHZ | 13 | 0 | 1 | 0 | 0 | 1 | 0 |
| 902 MHZ | 0 | 0 | 0 | 0 | 0 | 0 | 0 |
| 1296 MHZ | 13 | 0 | 0 | 0 | 0 | 0 | 0 |
| 2304 MHZ | 0 | 0 | 0 | 0 | 0 | 0 | 0 |
| Total Qsos | 65 | 2 | 3 | 3 | 3 | 6 | 1 |
Total Rover Qsos = 83
Rover Qsos % of Total Qsos = 29% WOW! Who says rovers are not necessary? As you can see, NØDQS really helped me out.
It was a shame that the other rovers were not worked as much, there was plenty of time spent searching for them, the propagation was not in the cards.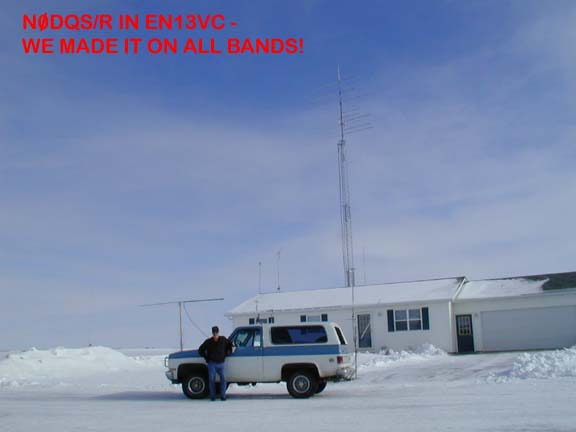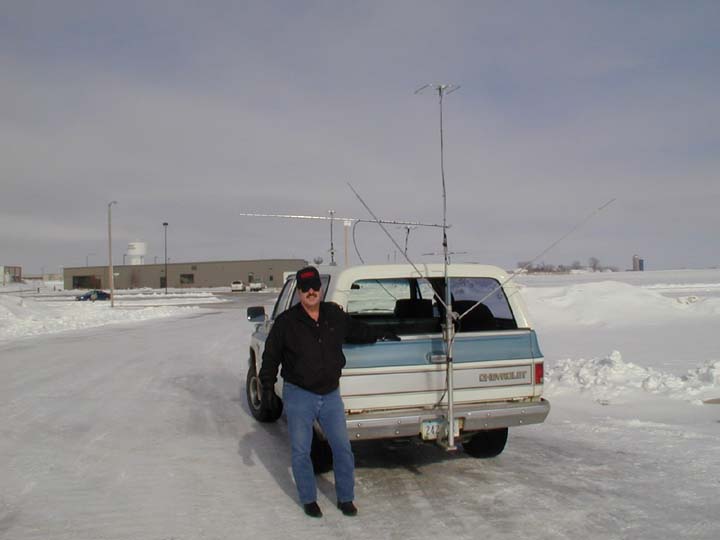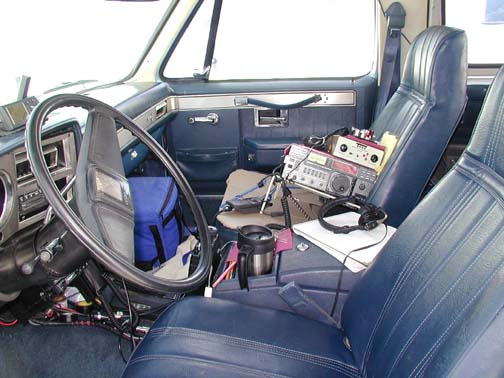 There were only 9 AU qsos. No sporadic Es on 6M. The band was up and down, and most cotacts were made by brute force forward scatter with occasional enhancement, however short lived.
Here are some grid charts showing the extent worked on the varios bands. These where clipped from Vqlog, a program I am currently experimenting with. I was able to export in ADF format for my contest data from VHFDX (which I feel is superior in speed and ease of use for logging these VHF contests) The data transferred very quickly to Vqlog without any problems. The neat thing about Vqlog is that it has the ability to generate graphs, maps and charts based on the QSO data.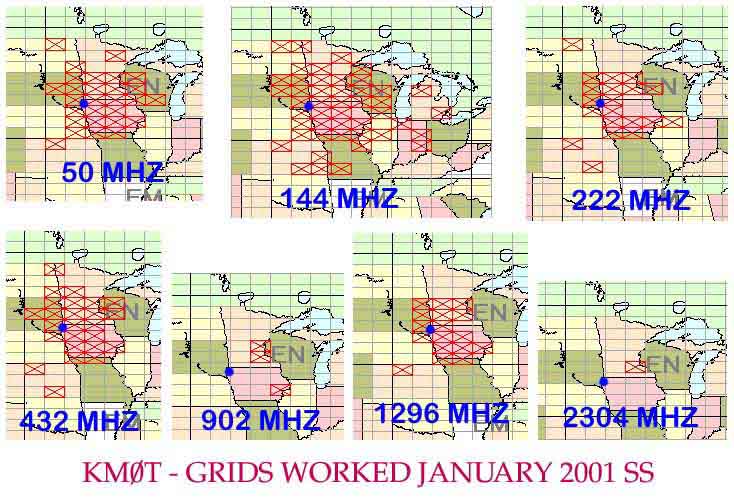 I do all my logging with VHFDX on an old Dell Laptop. The smaller screen does not get in the way of the other stuff and the keyboard is pretty robust. Never lost a QSO because the laptop failed! Here is a picture of the center of the station, logging and main switches for Phones, Mic, PTT and CW tranfer to the various radios. Next year I hope to have built the 4th version of my shack control station, going to go with relays and momentary contact pushbuttons ganged or unganged for flexibility. I will be getting my TTL logic legs back on that one, its been awhile since college :)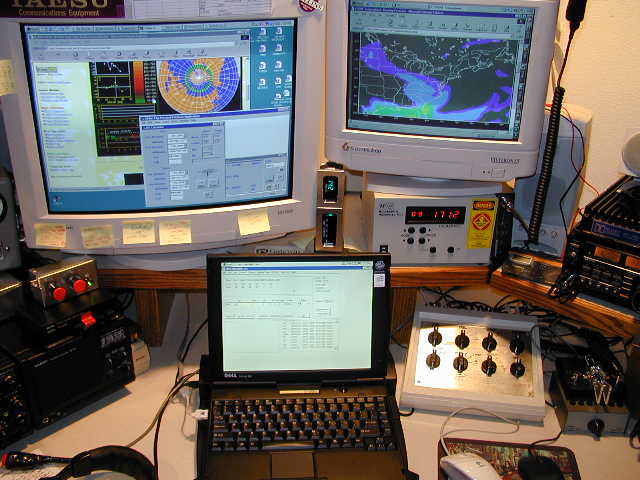 FINAL THOUGHTS
Taking into account the bad or lack of propagation, I did some comparisons to last years score. The fact that the grid and QSO count being nearly identical, and many more grids were worked last year via AU, I think I can chalk that up to being able to hear that much better. This goes for all the bands where I was running the new transverters. 6M and 70cm really shined. I heard so much more than before and was able to work them. Much better than the FT-847 from the year before which I was using on 6M and 70cm. In addition, the strong signal front end overload charcteristics were superior in comparions to the other rigs I had been runing on VHF. Still the QSO and grid count was nothing like last June, but hey, this is the middle of winter! See you all next year from EN13.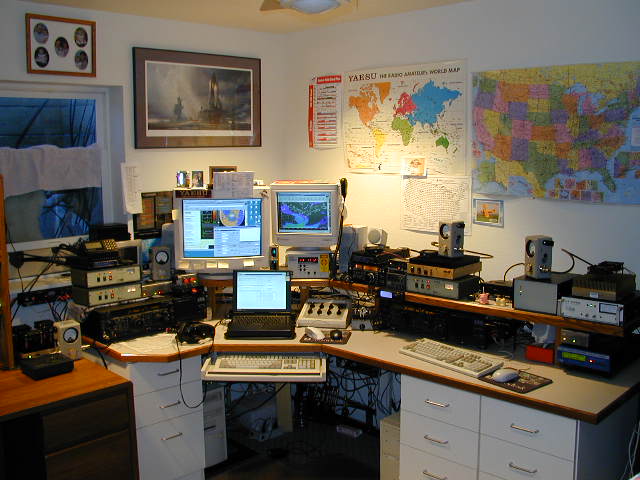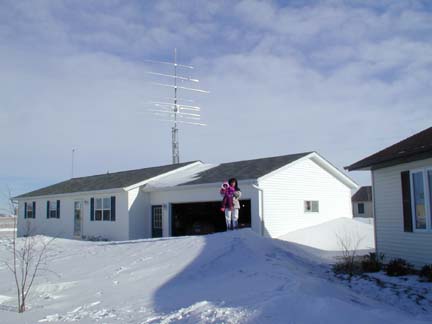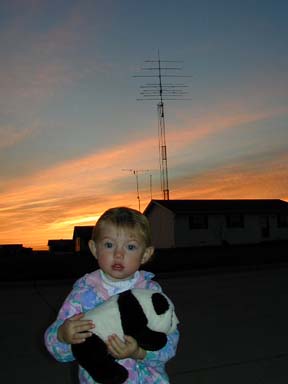 73 and thanks for reading - Mike – KMØT