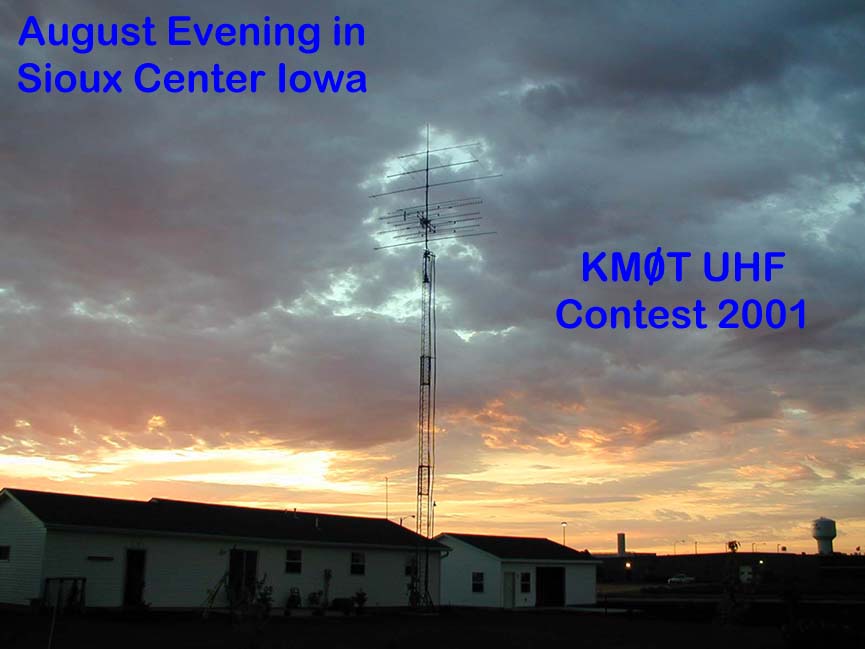 UHF Contest - 2001 - KMØT
It had been hot this early summer, lots of humidity and heat together. We however were not getting any tropo yet this season. Plenty of local enhancement had been taking place, but it seemed that it never got cool enough at night to get any type of inversions going. The temp would be 80 to 90 in the day and drop to 85 at night, not a really big spread.
With that, not much had been going on. The June Contest was just a memory now and that one really tired me out. About the only thing that I really needed to do after the contest was to figure out why my 6M setup lost power output a few times intermittently. Also, the 2M transverter lost power completely a few time intermittently. I attributed the later to loose banana jacks that were being used on the power cable for the 2M transverter. The 6M intermittent was puzzling. Heat and gremlins is what I believed it to be, no fix ever happened.
We took a little vacation in mid July and I finished it up with a trip to Dallas / Fort Worth for the CSVHF Society conference. The conference was a lot of fun and met a lot of folks. Learned a bunch of stuff and got to see some neat microwave antennas. Here is a few pictures of the antenna range. Ken had his rover rig there, showing off his equipment boxes on the back of the rig. Also, Dave had his vehicle there, with his shortend 6M yagi. It is said to work very well!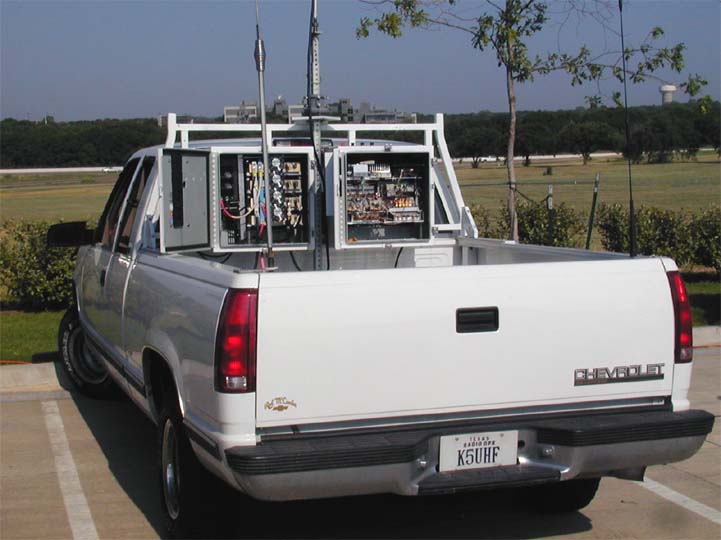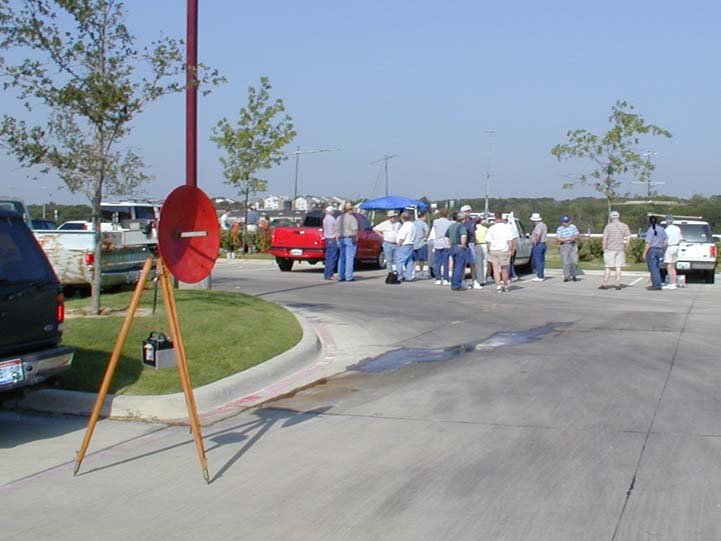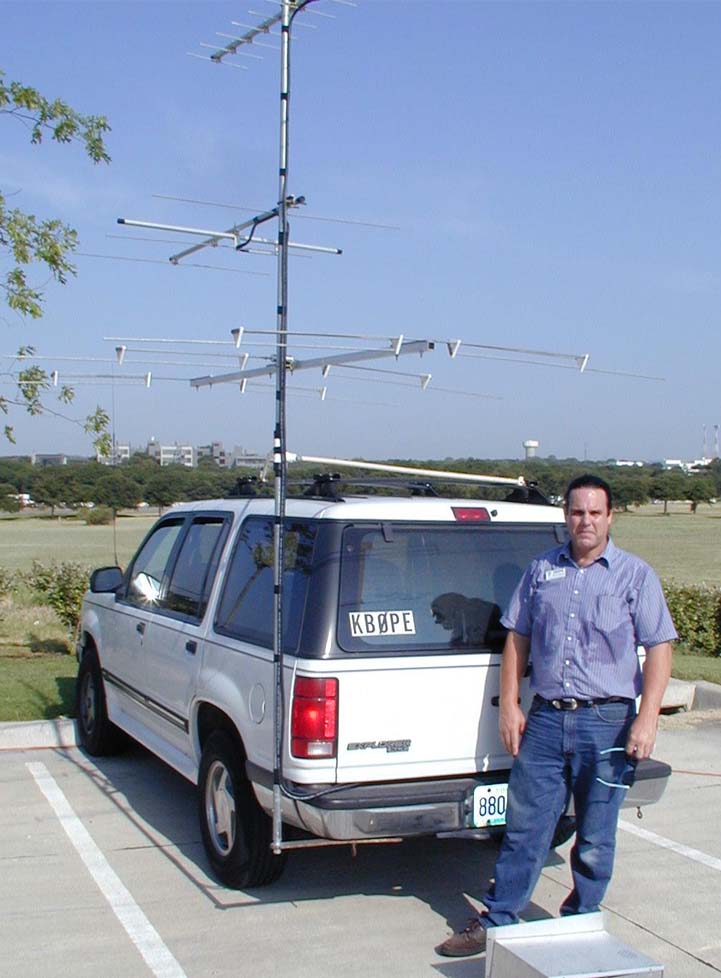 During my time away, I kept in contact via the internet scanning the band conditions. Nothing seemed to be happening, so I was not missing out too much on tropo or 2M eskip.
Well, the evening I got back 7-30-01, the band started to do some things. Worked Larry, NØLL in EM09 on 1296, very good signals. I had just got to meet Larry over the weekend at the CSVHF conference! Also worked W9ZIH in EN51 on 3456 Mhz with 5x9+30 sigs reported on his end. The next few days resulted in a large amount of contacts on all the bands. I began thinking, wow, if this keeps up, maybe I should operate the UHF contest next weekend.
I had never really operated the contest before, most likely due to a lack of higher bands. Now I had a few more higher bands, and with Gene, NØDQS roving around, it really seemed like a good idea. I figured I would just get on and operate as Gene hit the different grids, I supposedly had lots going on that weekend. My wife had 2 girlfriends, her sister and her sister's friend coming for the weekend and I was slated for kitchen duty…(yes I do most the cooking!) A house full of women and I'm on the radio, what's wrong with this picture?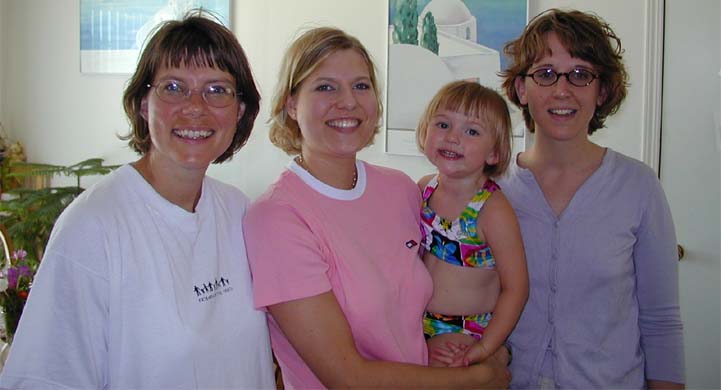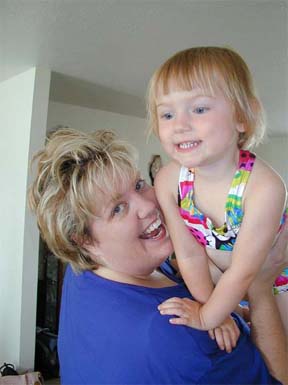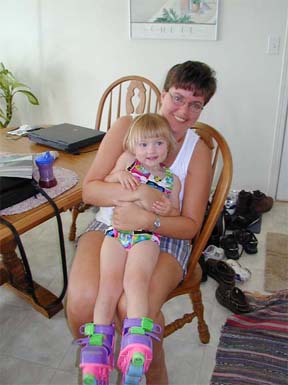 There was just to many women in the house.....Patricia sure enjoyed playing with them all!
Pre-Contest DX - Kind of like Dessert before Dinner!
The morning of the contest I got on to see what was up. The Hepburn Tropo Map was looking good and there was some activity on the propagation loggers. Well, the band was open! I worked into VE4 land with very good signals. I worked Bruce, VE4KQ in EN09 thru 1296 Mhz. Worked Barry, VE4MA on 903 and 2304 Mhz, about 5x1x9 on 2304 Mhz.
The band was open also to the East and South East, worked Bob, K8TQK on EM89 all the way through 1296 Mhz. Worked Dave, K4TO in EM77 all the way through 1296 Mhz. Signals were weak on 1296 for both grids. Bob and I chatted for a few minutes and talked about how we could keep the band open a few more hours so we could work during the contest!
THE CONTEST
I started out at 1800 working to the southeast, Perry, KØKD (EN31) and Bob, K2DRH (EN41) through 1296 Mhz, signals were really good. Followed up that by catching the guys up in VE4 land once again. This time Barry, VE4MA was 5x9 solid on 2304! Got Jim's attention, KØMHC/Ø in EN26, and worked on all the bands through 3456 as well.
Lots of QRM on 432, a very good thing to hear once in a while. Made lots of local QSOs and ran the bands with Gene, NØDQS/R as he traversed the grids. I then ran into W9ZIH (EN51) and K3SIW (EN52) around 2000 to 2200 UTC and ran all the bands they had. Good signals there to both grids on 3456 Mhz!
That evening around 0200 I ran all the bands with Gary, WØGHZ through 3456. Gary always has a good signal., After that, it was a zoo on 432.100, lots of stations. Notable things that evening..
Working Bruce, W9FZ from his apartment balcony and Bob, WØAUS from his deck outside his house on 2304 Mhz.
Missing Gene, NØDQS/R in one grid because I was cooking dinner! (as I look back, this was kind of a bummer!)
VE3KRP in EN58 calling me on 432 after a CQ!
Calling CQ on 432 and having a pileup!
Working W0ZQ on SSB – 2304 Mhz!
Losing QSOs on 432 due to QRM!
Working Dennis, NTØV in EN08 with 5x9+ signals on 2304 Mhz!
Working Andy, KØSM in EN10 on 432 Mhz. He had a FM handheld and a small satellite antenna. He ran outside to the top of his hill and held the antenna in hand and keyed the handheld FM transceiver to send FM carrier as CW. I listened on SSB and zero beated the FM chirp as he keyed the handheld (could not hear his FM audio at all) and completed the QSO! Pretty neat!.
I hit the sack at 0530. Got up and made my first QSO of the day at 1051 UTC with N9GH. I broke into a QSO between he and K3SIW on 1296 Mhz, they were both 5x9++ not even pointed at me! That was a good sign of things to come that morning.
Around 1200 I ran into Gene, NØDQS/R, he was up from a quick nap and knocking off QSOs to the east, he was having lots of contacts out of the Chicago land area.
Picked up Bill, KØAWU EN37 through the QRM on 432, always nice to hear him down here.
A bit after that, I started calling CQ on CW on 432 to the south. I heard a station come back to me 3 or 4 times, very weak. But it was definitely a W5 station. I then ran into NØQJM, Holly - my next door neighbor. She said that she worked Al, W5LUA in EM13 Texas on 432 and he was looking for me since I had some high band equipment. Well, I ran into AL and we were able to work on 432 SSB! The band was improving. We ran through all the bands and then got to 2304 Mhz. There was QSB on the signal but we managed just fine. We then went to 3456 Mhz where I heard him twice, but with no response. Wow! Texas on 2304! We went back to 432 and AL said W5ZN EM45 was on frequency from Arkansas, he swung the beam up to me and he had a very good signal. We said bye to Al and W5ZN and I went to 222. There his signal was even better it seemed, so that's where we coordinated from. We worked through 2304 Mhz! I heard him once on 3456 Mhz, but nothing more. The time was around 1412.
A bit after that, I ran into Garth, WØGR in EM38, worked him on all the bands he had through 2304. Ended the contest by picking up a few stragglers and rovers, working Gene NØDQS/R right up to the last minute as he got into his last grid.
Contest Summary: KMØT
| | | | | |
| --- | --- | --- | --- | --- |
| Band | QSOs | Pts | QSO Pts | Grids |
| 222 MHZ | 33 | 3 | 99 | 24 |
| 432 MHZ | 60 | 3 | 180 | 38 |
| 902 MHZ | 24 | 6 | 144 | 19 |
| 1296 MHZ | 35 | 6 | 210 | 25 |
| 2304 MHZ | 20 | 12 | 240 | 18 |
| 3456 MHZ | 12 | 12 | 144 | 12 |
| Totals All Bands | 184 | | 1017 | 136 |
KMØT CLAIMED SCORE: 138,312
This was my best effort yet for the UHF Contest, very good propagation. I believe the year before I only made a few dozen contacts.
"The Rover's Corner" ©
What can I say, the rovers helped out. Here is the chart of Rover activity I worked:
| | | | | |
| --- | --- | --- | --- | --- |
| BAND | NØDQS/R | KBØTHN/R | KBØN/R | WØAMT/R |
| 222 MHZ | 8 | | | |
| 432 MHZ | 8 | 2 | 1 | 1 |
| 902 MHZ | 8 | | | |
| 1296 MHZ | 8 | | | |
| 2304 MHZ | 8 | | | |
| 3456 MHZ | 8 | | | |
| Total Qsos | 48 | 2 | 1 | 1 |
Total Rover QSOs = 52
Rover QSOs % of Total QSOs = 28% WOW! Who says rovers are not necessary?
A special thanks to all the rovers, especially NØDQS/R. Without contacts from him, the score would be much lower.
GRID CHARTS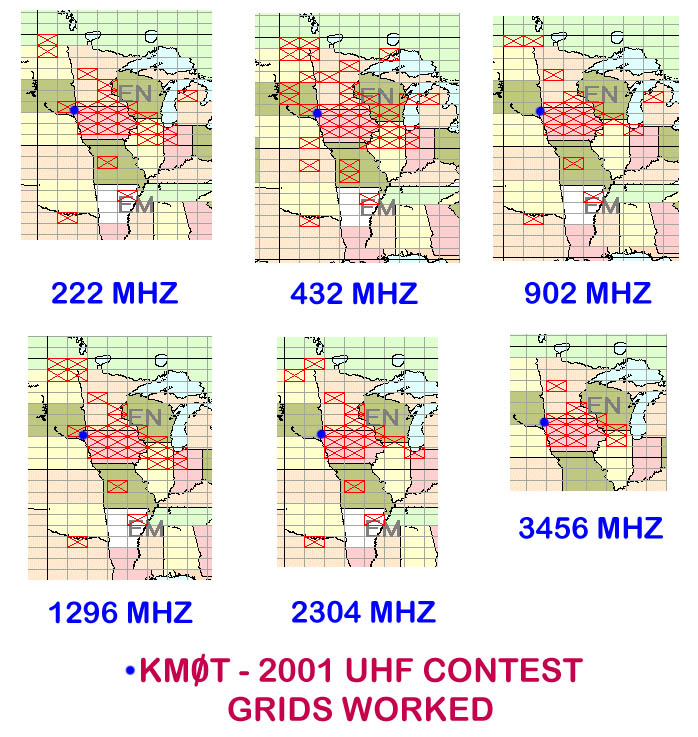 Its too bad, but 222 activity seemed to sparse when one looks at the grid charts. Its been fun, see you next year! Hope we get good propagation again!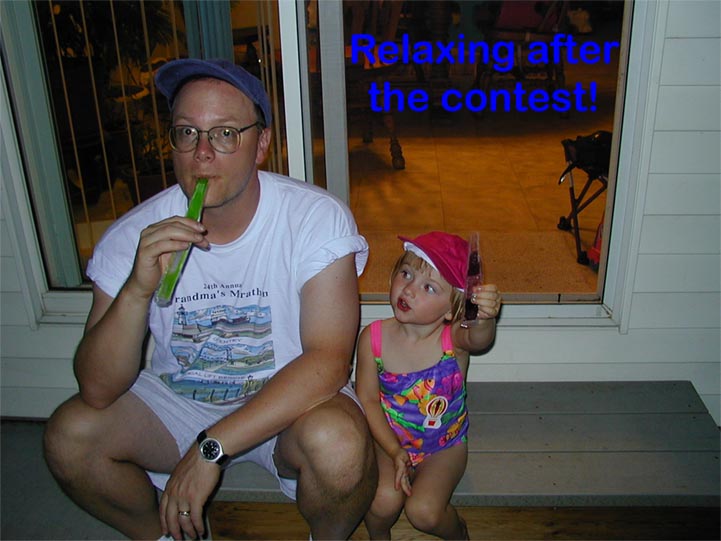 73 - Mike - KMØT
Send me some email! Click on my call sign below.
KMØT